Importance of being active, tolerant and not worrying about internet dating, by ninetysomething women and men
A study suggests that average life expectancy will soon exceed 90 for the first time. Women born in South Korea in 2030 are forecast to have a life expectancy of 90, with other developed countries not far behind.
France is second in the league table for women, at 88.6 years, with British women 21st, at 85.2 years, and British men 14th, at 82.5 years.
We asked men and women in their 90s what life has taught them about ageing. Here is a selection of our interviews.
Jean Miller, 94, from Falkirk: Life is an education. Ive realised theres a rhyme and reason for everything
The key to reaching such a good age is to keep active and interested in things. I was working in a salon up until last year, but I had to leave as I was feeling a few aches and pains. I didnt want it to get to the point where management asked me to leave. I used to take coats and make sure all the guests through the door were attended to. I made lots of great friends this way.
The moment you stop and sit in a chair is when you struggle. I have a lovely family and have taken an interest in the world around me. Now I am no longer working I go to a gym class on a Monday. Its a class for over 50s so its fun, enjoyable exercises. We have tea afterwards. I also joined the University of the Third Age, a group for retired or semi-retired people to get together and learn for fun. Theres a theatre group I am part of through this and I am also hoping we will get to learn German soon. I signed up but we need a few more people to get involved before we can get started.
Life is an education and if you dont learn as go along then thats bad. Ive learned to see things in a different way over time. My biggest lesson is to be more patient. I used to worry about things but now I dont. Ive realised theres a rhyme and reason for everything. In life youve got to take things as they come.
Pam Zeldin, 94, from Manchester: Get enough sleep, and dont drink to excess that said my older sister does enjoy a little G&T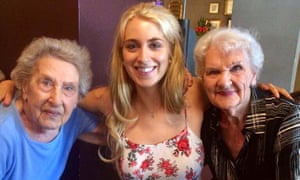 Read more: https://www.theguardian.com/lifeandstyle/2017/feb/23/90-year-olds-avoid-stress-be-useful-long-happy-life