How rude can a movie be and still win best picture? How many men with toupees have triumphed? And does anyone watch it anyway? Weve trawled the archives to unearth the real history of the Academy Awards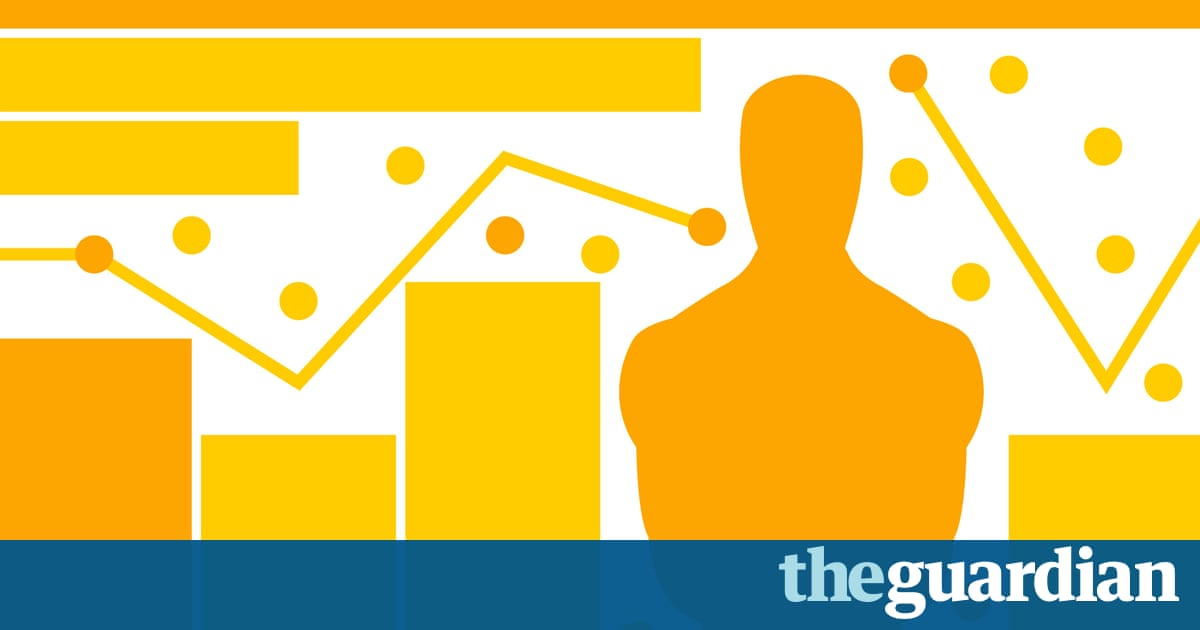 TV ratings for the Oscars broadcast have been on a steep decline in the US, despite the producers revamping the ceremony and drafting in an endless parade of new hosts. Polls this year suggest that a Trump-focused show could prove a turn-off for his supporters so incoming host Jimmy Kimmel will have his work cut out. The one thing that does make people tune in is really giving a damn about the big movie. In 1998, 57.3m people watched James Camerons iceberg-fated romance trawl its way to 11 wins. This year, six in 10 Americans cant name a single Oscar nominee. You do the maths.
Top of our charts of the actors, actresses and directors to have been nominated multiple times is poor old Peter OToole, who never got to hold a gong despite it being dangled in front of him no fewer than eight times. But spare a thought for Roger Deakins, the brilliant cinematographer whos been unsuccessfully nominated for an Oscar 13 times although this year could at least see a happy ending for Hacksaw Ridges sound mixer, Kevin OConnell. If he wins on Sunday, hell break his own record for the longest losing streak in Oscar history: currently at 20 nominations to zero wins.
Remember how people tuned into the Oscars when a massively popular movie won and how theyre less keen when little-seen films triumph? Just to underline that point, heres a comparison of the takings of the best picture winner and the box-office topper in the US the same year. Last year, for instance, Spotlight made 5% of the total takings of Star Wars: The Force Awakens.
Deadpool, Ryan Reynoldss filthy and filthy rich superhero movie had been tipped to sneak into this years best picture nominees. That it didnt might well have been on account of its language. The tolerance of Oscar voters for that sort of thing has declined dramatically since the 70s, when an X-rated movie (Midnight Cowboy) actually won best picture.
Obviously. But optioning a brilliant book is also a very good way forward. Failing that, try to dream up your own idea. Just dont take your cues from telly.
Nobody loves a good deathbed scene more than Oscar voters, it seems. Roughly 20% of best actor and actress winning performances feature the character expiring at some point in the film. So its well worth flicking to the end of the script to start with.
Ben Stillers controversial comedy Tropic Thunder suggested that actors eager for an Academy Award should never go full retard, but that going part retard (like Dustin Hoffman in Rain Man or Tom Hanks in Forrest Gump) was a guaranteed winner. The dominance of Oscar wins for lead performances featuring a character with mental health issues lends credibility to the quip.
Finally, the data everyones being waiting for: what hairstyle is best if youre tilting for a prize? For both sexes, the results are conclusive: get it chopped off if youre a fella, and ladies, dont be afraid to go au naturale. And, chaps, if you cant make it, fake it: a surprising number of hairpieces have proved triumphant.
Read more: https://www.theguardian.com/film/2017/feb/26/oscars-by-numbers-history-academy-awards-statistics