Suspect thought to have been highly intoxicated is Neilson Rizzuto, 25, with five people in guarded condition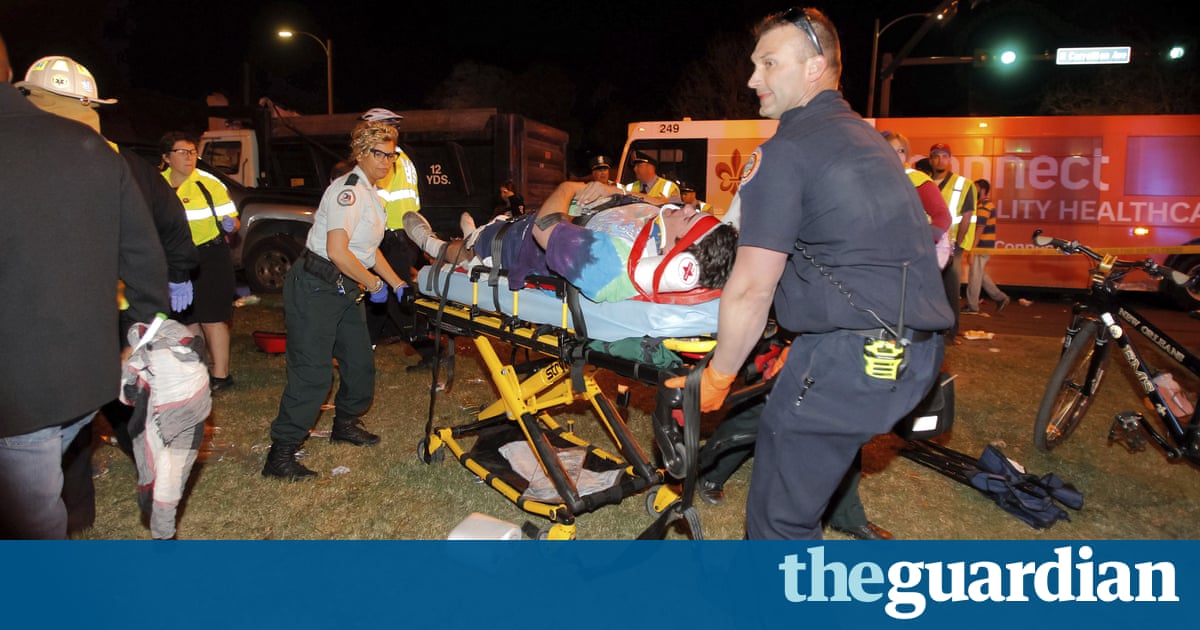 A driver accused of injuring 28 people in New Orleans after plowing a pickup truck into a crowd watching a Mardi Gras parade had a blood alcohol level nearly three times the legal limit soon after the crash, police said on Sunday.
The New Orleans police department issued a statement identifying the man as 25-year-old Neilson Rizzuto. Online records showed he was being held at the citys jail.
Rizzutos blood alcohol level was measured at 0.232, well above the 0.08 limit, about two hours after he was taken into custody on Saturday, the New Orleans police spokesman Michael Tidwell said in an email to Reuters.
Rizzuto was charged with two felony counts of vehicular negligence injuring in the first degree, hit-and-run driving and the reckless operation of a motor vehicle, according to a statement released earlier on Sunday.
A police spokeswoman said it was not certain when the suspect would make his first court appearance.
The FBI in New Orleans said its agents were coordinating with our federal, state and local law enforcement partners to determine whether a federal violation has occurred.
The accident happened during one of the busiest nights of Mardi Gras, as thousands of people thronged the streets of Mid-City to watch elaborate floats and clamor to catch beads and trinkets tossed by riders.
The truck driven by Rizzuto was traveling on the side of a street open to traffic along the parade route when it struck three other vehicles, including a dump truck. It then veered on to the median, where a crowd stood watching the procession, police said.
Police immediately apprehended the driver, who according to eyewitnesses appeared disheveled, glassy-eyed and under the influence of drugs or alcohol.
We suspect that that subject was highly intoxicated, the police chief Michael Harrison said on Saturday night. Harrison was asked by the media if terrorism was suspected. While he did not say no, he did say the case looked like a DWI.
In a statement, the mayor, Mitch Landrieu, referred to the suspect as a drunk driver.
Twenty-one people were hospitalized after the crash with five victims taken to the trauma center in guarded condition. Their conditions did not seem to be life-threatening, said Dr Jeff Elder, city emergency services director, who added that seven others who were hurt declined to be hospitalized.
The injured ranged in age from as young as three or four to adults in their 30s and 40s, Elder said.
Among those injured was a New Orleans police officer. Harrison said the officer, who was on duty, was undergoing tests to determine the extent of her injuries. She was in good spirits, he said.
Saturday nights parade was put on by the Krewe of Endymion, which is known for long, elaborate floats and the big party it hosts at the Superdome. The parade continued with little interruption.
One woman at the scene told the New Orleans Advocate that a silver truck whisked closely by her as she was walking through the intersection. Carrie Kinsella said: I felt a rush, it was so fast.
Kourtney McKinnis, 20, told the Advocate the driver of the truck seemed almost unaware of what he had just done.
He was just kind of out of it, she said.
Read more: https://www.theguardian.com/us-news/2017/feb/26/driver-new-orleans-truck-crash-blood-alcohol-232