Experiment comes at a time of seemingly new possibilities for election financing after Bernie Sanders demonstrated that small donors can float a campaign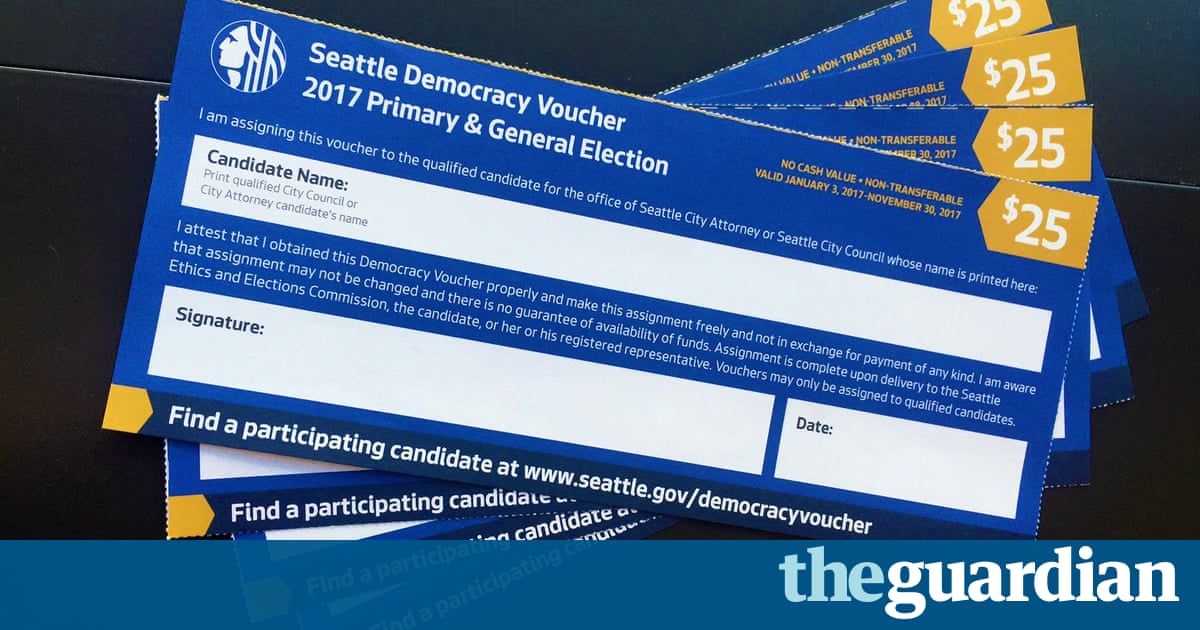 If money amplifies the voices of wealthy Americans in politics, Seattle is trying something that aims to give low-income and middle-class voters a signal boost.
The citys new Democracy Voucher program, the first of its kind in the US, provides every eligible Seattle resident with $100 in taxpayer-funded vouchers to donate to the candidates of their choice. The goal is to incentivize candidates to take heed of a broad range of residents homeless people, minimum-wage workers, seniors on fixed incomes as well as the big-dollar donors who often dictate the political conversation.
This Augusts primary is the trial run for the program. But before Seattle can crow about having re-enfranchised long-overlooked voters, it must contend with conservative opposition.
The experiment comes at a time of seemingly new possibilities for campaign financing. Bernie Sanders demonstrated that small donors can float a campaign, with 99% of his donations coming from individual donors, 59% of which were considered small donations.
Last fall, South Dakota voters approved a program similar to Seattles, joining more than a dozen other states with some form of public financing, usually a matching fund for small campaign donations. Cities such as Portland, Oregon, and Berkeley, California, also followed the public-financing trend last year.
In Seattle, if we had a concerted effort to register, educate, and organize renters and people who are homeless as a political force, our city politics would look rather different than they currently do, said Alison Eisinger of the Seattle/King County Coalition on Homelessness, which works to register homeless voters, among other advocacy efforts.
The democracy voucher program was created by a voter-approved ballot measure in November 2015 and is funded by a 10-year, $30m property tax levy. Registered voters are automatically sent the vouchers. Those who are not registered and those without a permanent address such as homeless people can apply by mail or in person with a city commission.
Seattle candidates are not required to participate in the voucher program. But Jon Grant, a leftist city council candidate who previously led the Tenants Union of Washington, has made the vouchers a centerpiece of his campaign. He has pushed to collect vouchers from over 1,000 people, including those living in several homeless encampments.
Of the $145,933 in donations that Grant reported on the most recent campaign disclosure form, $128,800 is from vouchers.
Read more: https://www.theguardian.com/us-news/2017/jul/07/democracy-vouchers-seattle-politics-low-income-homeless