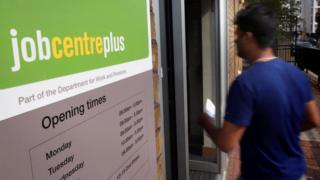 Benefit freezes combined with the predicted rise in inflation could set some low-income households back £300 next year, a think tank has warned.
September's inflation data will be released on Tuesday, and some analysts predict the Consumer Price Index (CPI) will be 2.9%.
The Resolution Foundation says loss of income due to benefit freezes would be £225 for a single parent in work.
It says the chancellor should "ease the squeeze" on benefit households.
September inflation data is normally used to adjust benefits and tax thresholds the following April.
The think tank's research indicated that Chancellor Philip Hammond's benefit freeze, which will begin its third out of four years in 2018, will hit working families the hardest.
Its analysis says: "2018 is set to be the year the freeze bites deepest. Should CPI hit 2.9% on Tuesday, the freeze will save [the Treasury] £1.8bn next year."
The Resolution Foundation's analysis found that a single unemployed person would be £115 worse off, a single parent in work with one child would be £225 worse off, and a single earner couple with two children would be £305 worse off.
Squeeze continues
Torsten Bell, director of the Resolution Foundation, said Mr Hammond should use his upcoming Budget to "ease the squeeze on low and middle income families not make it worse".
But he added: "Government policy is currently set to do the opposite, freezing the value of crucial support that 11 million families receive. With inflation approaching 3%, families are on course for the biggest real-terms cut in the value of their benefits for decades."
The Resolution Foundation is calling on the chancellor to thaw the benefit freeze and allow working age benefits to rise in line with CPI next April.
Read more: http://www.bbc.co.uk/news/business-41617045