The Jacksonville Jaguars appear to be getting their act together after years of ineptitude. It should play well in the leagues push in Europe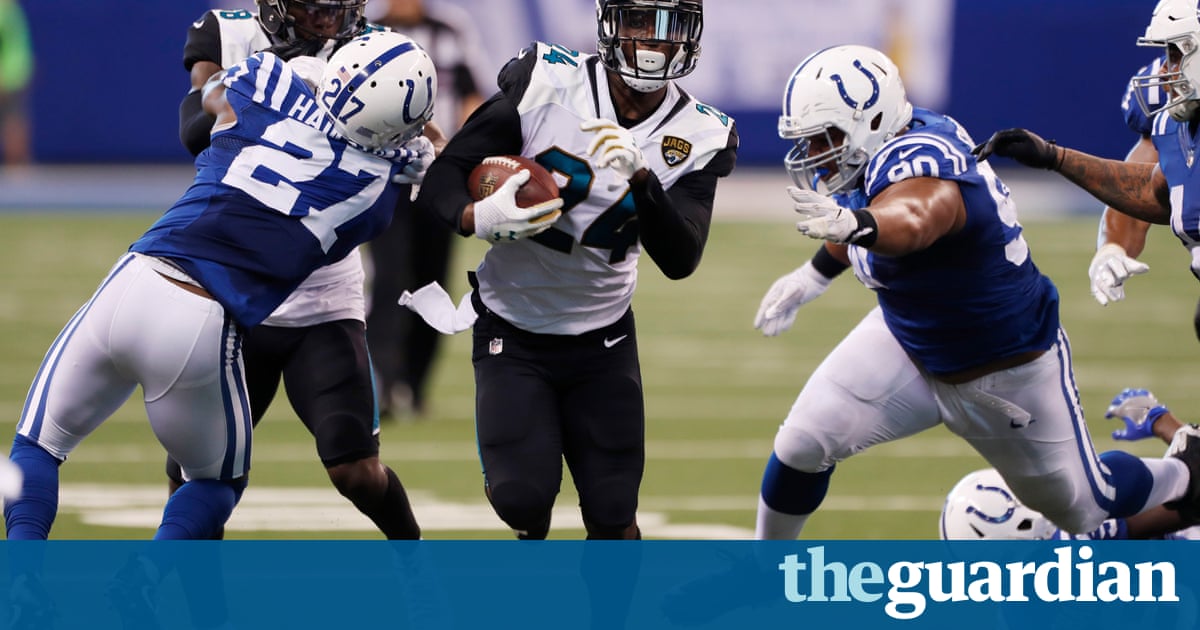 If the Jacksonville Jaguars are indeed Londons NFL franchise then how strange is it for the capital to possibly have an NFL playoff team?
After years of failed attempts to win more than five games in a season, the Jags long tipped for a move from Florida to the UK sit at 4-3, tied for first place in the AFC South and are a legitimate threat to be playing in the post-season. And who would have figured this?
At the end of last year, it seemed Blake Bortles was the latest of young Jaguar quarterback blunders, throwing for a lot of yards but also a lot of interceptions. Jacksonville had no discernible running game and a solid defense wasnt enough to promise they could haul themselves to respectability.
Something strange has happened to the same old Jaguars since. They got good. The season is almost half-over and Jacksonville lead the NFL in sacks, interceptions and point differential. Yes, they were the lucky beneficiaries of Houston quarterback Tom Savages regrettable season debut one that lasted a half. And, yes, they picked up 10 sacks that day because Houstons starting left tackle, Duane Brown, was holding out. Still, the Jags never used to dominate teams no matter how broken those clubs might be.
On Sunday, they trampled the woeful Colts 27-0 in Indianapolis, but the score, as one-sided as it was, said little about how complete this domination was. The Jags outgained Indianapolis 518-232 as Bortles, the quarterback who appeared close to through in Jacksonville, threw for 330 yards and a touchdown.
That the Jags won so decisively a week after a loss to the Rams is also a tremendous sign. An even better sign is that the players almost expected to win. And that is definitely different about this team.
The beauty of it is its still October and were in control of our identity, defensive end Calais Campbell told reporters last week. Thats all you can really ask for. Nobody is 6-0 and were in a tie for first place. Were in a good place. We just have to bounce back [from the Rams loss]. One thing weve shown is we can bounce back and we are very resilient.
There are plenty of reasons for Jacksonvilles resurgence. Rookie running back Leonard Fournette, who missed Sundays game, has given the Jags a more balanced, more potent offense. Bortles, who is amazingly just 25, has been efficient, growing into the role of a game manager. The defense is healthy and aggressive and still young. But the biggest change may be the return of the franchises best coach, Tom Coughlin, who is the Jags executive vice-president, and the fact head coach Doug Marrone has a full year in charge of the team. Marrone, who filled in at the end of last season when Gus Bradley was fired, has always been underrated as an offensive mind. Suddenly, the Jags are something of a threat.
In the past, the schedule never favored Jacksonville much. The Jags often found themselves staring at second halves filled with winning teams, but in the seasons final 10 games they play the Bengals, Browns, Cardinals, Colts and 49ers. All teams with losing records. The playoffs arent guaranteed but for a team that has already won games by scores of 29-7, 44-7, 30-9 and now 27-0 Jacksonvilles playoff chances are as good as they have been for a long, long time.
Londons de facto, NFL team in the postseason. Who would have guessed?
Fantasy player of the week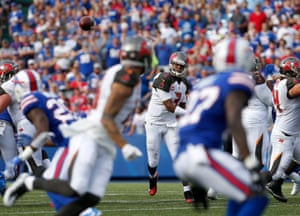 Read more: https://www.theguardian.com/sport/blog/2017/oct/23/jacksonville-jaguars-nfl-london