Those who work in grocery stores, public transportation, food service and sanitation risk getting sick in order to survive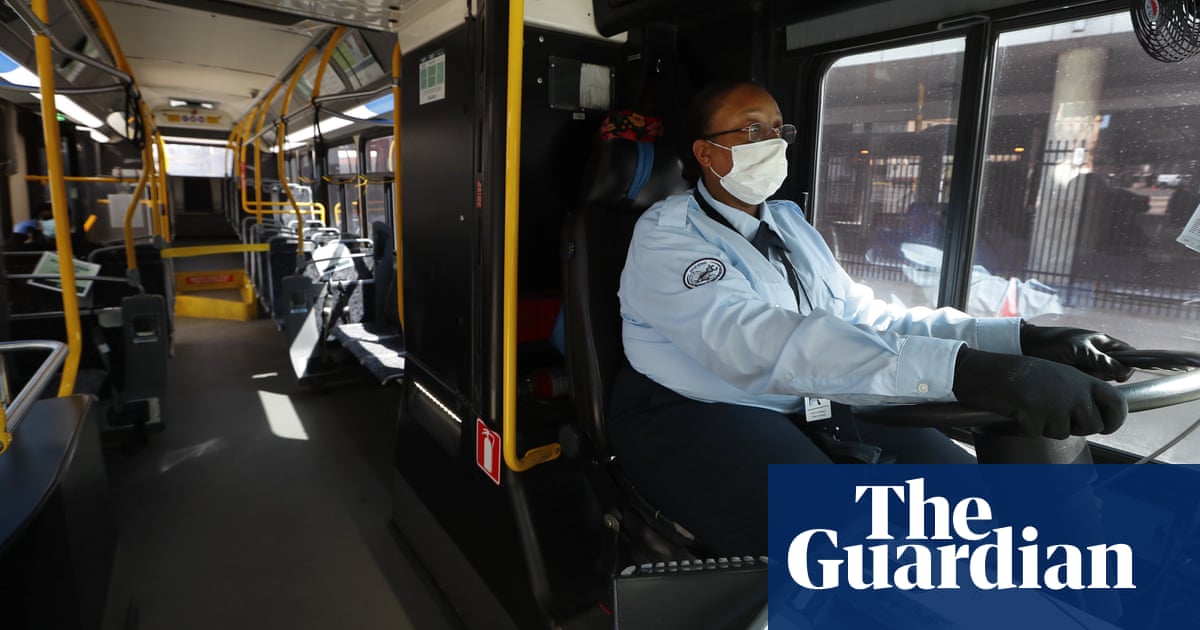 Roughly 16 million Americans filed for unemployment benefits in the wake of immediate layoffs and furloughs due to shutdowns to try to mitigate the spread of the coronavirus, triggering a generational economic crisis for millions of Americans.
Essential workers still on the job continue to get paid, but the stress of working as the coronavirus spreads throughout the United States is taking a heavy toll on those working in grocery stores, transportation, food service, sanitation and other areas as they risk exposure to the virus for themselves and their families.
The Guardian spoke to several workers who are on the frontlines of the coronavirus pandemic about their recent experiences.
Gail Rogers: McDonalds cashier for six years in Tampa, Florida
McDonalds lobbied against paid sick leave inclusion for many of its workers in federal coronavirus relief legislation, as workers at McDonalds franchises, about 517,000 of them, receive no paid sick leave.
Gail Rogers, a 60-year-old cashier and kiosk operator, is one of those workers.
Two weeks ago I had to go to the hospital because I woke up very ill. I was tested for different viruses, including the coronavirus, and then I had to go home to be quarantined. I called the hospital the next day and they let me know my test came back negative. I was cleared from that, but I am supposed to be wearing a mask. I asked my manager if I could wear a mask and was told I couldnt use a mask, said Rogers.
She isnt provided any paid sick time off, health insurance benefits, or given additional hazard pay while working during the pandemic.
If we get sick, who is going to run the store? We dont want to be in a workplace where we feel theyre not supporting us or they cant pay us sick leave or give us health insurance if anything critical comes up, Rogers added.
McDonalds did not respond to a request for comment.
Matt Monaghan: public transit bus operator for 24 years in Staten Island, New York
New York is the current center of the coronavirus pandemic in the US, with more than 4,000 dead. Through the pandemic, public transit bus drivers have continued to operate regular schedules, though bus driver unions are working to develop reduced schedules with the city to protect drivers and the public from exposure to the virus.
I myself have anxiety, when people are on the bus, of catching this thing. We have families to go home to and we dont want to bring it home to our families. Its tough times right now but were doing the job and moving the city, said Monaghan. I carry my own Lysol on the bus, I disinfect what I can so I know its done right, because Im afraid of getting this thing.
Monaghan noted several bus operators have been or are currently hospitalized with coronavirus, and is hoping the bus schedules are reduced so operators can take time off to stay home.
Virender Rana: Uber driver for six years in Philadelphia, Pennsylvania
Since the coronavirus pandemic began, Rana hasnt taken a day off in an attempt to try to make up for the earnings hes losing from the drastic decline in riders. Usually he makes $100 to $300 a day, now hes making around $50 a day for a 10- to 12-hour shift less than minimum wage.
Read more: https://www.theguardian.com/world/2020/apr/12/essential-workers-coronavirus-outbreak-us